Every Monday, I'm going to put my iPod on shuffle and share with you the first 15 songs that come up. I'm going to share with you how the song makes me feel and what it means to me. There also seems to be a song that we can't take off repeat... I'll name that also and tell you why I keep listening to it♥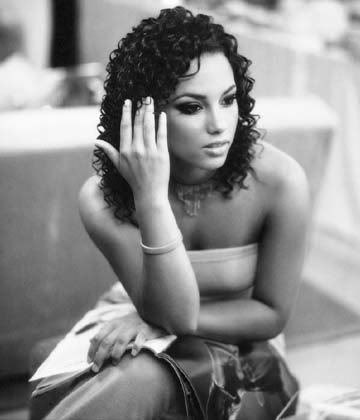 So High- John Ledgend

~ His vocals in this song are amazing and always gives me the chills.

Make it Work- Ne-yo

~ Love the lyrics, reminds me of my boyfriend. Especially the beginning! LOL

Intuition- Keri Hilson

~ Love the lyrics to this song.

Maybach Music 2- Rick Ross

~ Everyone who knows me, knows I'm in love with this man and his music, however I don't care for this song too much. I like the 1st one a lot.

Tired of You- Foo Fighters

~ The first time I heard this song was on the movie "I Think I Love my Wife." and as soon as I heard it, put it on the ipod ASAP.

Let's Wait Awhile- Janet Jackson

~ This is one of my all time favorite songs from Janet.

If- Destiny's Child

~ The lyrics of this song speak for itself, especially when your feeling unappreciated in your relationship.

Hey Lover- LL Cool J f. Boys II Men

~ I just think this is one of the cutest "crush" songs made. I also love the collaboration.

Grown Man- Lil'Wayne

~ Every time I hear this song, I just know he's talking to me! LOL

I Still Love You- 702

~ These girls were hot, plus Pharrell produced this track... so you know if he's on it... it's FIRE!

Lesson Learned- Alicia Keys

~ This song helped me get through a really hard time when a certain someone broke my heart.

Can You Handle It- Usher ~

Need I say more.... This whole album "Confessions" was on point. It's very rare that you hear an album now a days and like every single song!

Don't Say No, Say Yes- Avant

~ I think this is like on every one's ipod! LOL ... I mean how can you say no???

Tonight- Xscape

~ The vocals in this song is crazy and this is truly one of their best!

Fu*k You- Lily Allen

~ I first heard this song when I was in Urban Outfitters. I was told that she wrote it with former President George Bush in mind... so why wouldn't I like it???
SONG OF THE WEEK:
Last Time- Fabolous f. Trey Songz
~ At first I didn't like the song, but I clearly didn't listen to the words to it. Thanks to my boyfriend who won't listen to anything else when were in the car... I became a fan. Trey's voice... it just does something to me ;-)
That's all for this week! What do you think and what are your top songs in your ipod???