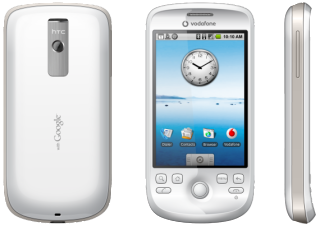 The new phone from T-mobile is available to be ordered starting today for all existing customers at $199.99 & up. It will be available for ordering until July 28, 2009. Those who have ordered it, are expected to receive the phone on August 3, 2009. The new phone comes in 3 colors... White, Black and Merlot. The phone will be available in stores to everyone in 27 days! One of the main features they are introducing is a new app called "Sherpa", quick description ...


"Thousands of applications are available for the myTouch 3G, including Sherpa, which will be available when myTouch 3G is in stores. This amazing app actually gets to know you better as you use it. It learns your favorite coffee house, bank or pharmacy, and keep track of your errands with built-in GPS. It even learns the types of restaurant your prefer, and when you search it gives you those options first."

I've also read some reviews and even though the phone is expected to do a lot and compete with AT&T's iphone, it doesn't have as much memory and can cost up to $100 just to get that memory by purchasing a memory card. The battery life is also expected to last longer than the G1. (which is great, and i'm looking forward to!)
However....
I ordered my phone today in white! Can't wait to get it and tell you guys how it is! For more information visit
www.t-mobilemytouch.com